By Brian Cartwright
All of our work here at Lifeline is made possible by the incredible passion and drive of our team. We're proud to introduce you to the talented individuals who power our work and mission.
"What I like about being in this position is getting to see the bigger picture to solve problems ranging from simple to complex. At times you see people getting upset about trivial matters, so simplifying and solving the challenge and seeing the smile on their face gives me purpose in my position."
– Timket Biresaw
Could you provide a brief overview of your responsibilities as the Uganda Country Director for Lifeline?  
My job includes three major elements. These are: oversight, resource mobilization, and representation. Oversight includes ensuring the smooth running of our HR, operations, finance, and program functions. I am the primary focal person for the country office, providing strategic inputs, managing our day-to-day activities, and ensuring the achievement of our programmatic objectives.
At Lifeline we work on two broad areas: WASH and environment. Through these two thematic areas, Lifeline contributes to give dignity and a better life to communities through its unique program delivery approaches. We strive on attaining the Sustainable Development Goals (SGDs), specifically goal #6 (clean water and Sanitation) and goal #7 (affordable and clean energy). Through our work within these two major SDG goals, we are also indirectly addressing many others such as climate action, zero hunger, and no poverty, etc. Please note that I am talking as "we", because I do not want to leave out our committed team that are instrumental in our achievements as an organization.
Our activities include lots of resource mobilization (human, information, financial and materials) that are allocated to achieve our program goals. My job in this includes making sure we follow our internal policies and grant requirements in program implementation. I also assist with risk identification & management and adherence to our highest moral principles and values in discharging our work. These includes justice, compassion, commitment, authenticity, integrity, accountability, and respect.
I am also responsible to represent Lifeline in different forums and addressing key stakeholders' needs, including communities and government partners.
In one sentence though, my role is a mix of strategic and routine decision making that takes us, as an organization, a step closer to realizing our mission of creating a world in which no one suffers for lack of access to clean water and energy.

I would imagine that being a country director can be stressful at times, how do you deal with any stress or relax outside of work?  
It is rare that I am faced with a highly stressful situation, but I have matured through time, and I just do my best and handle anything to the best of my knowledge, which involves focusing on the issues that matter. I am usually able to remain calm in my work.
When I seldom feel stressed, I try to avoid over thinking and instead be social with people. I love looking at nature, swimming, hiking, and taking long walks. Sometimes I play chess, which can unfortunately consume too much time. However, chess is a game that can make you focused and can train you to strategize.
What do you enjoy the most about being in a high-level leadership position?  
I must say that I do not see my position as one being "a high level". I rather see the position as a duty to serve. What I like about being in this position is getting to see the bigger picture to solve problems ranging from simple to complex. At times you see people getting upset about trivial matters, so simplifying and solving the challenge and seeing the smile on their face gives me purpose in my position. What I also enjoy is the talented team members that offer me the opportunity to learn every day and develop the skills that I have today.
What would you say are some of the biggest challenges with being in this role and how do you overcome those challenges?  
There are several challenges in leadership. To mention a few, leadership involves decision making and making those decisions often based on information gathered by others. Through the years, I have learned to analyze and visualize different scenarios before reaching to a conclusion. For example, there could be several needs that must be addressed, but resource limitations may hinder us from addressing those needs. A leader needs to be able to evaluate the different scenarios, prioritize and make decisions. Dealing with difficult people can also be a challenge as it affects team synergy and deters motivation. Fortunately, our world only has a handful of difficult people. Overall, leadership for me is the ability to be patient with people, to evaluate the issues from the other party's viewpoint, to make informed decisions, and be decisive and exemplary.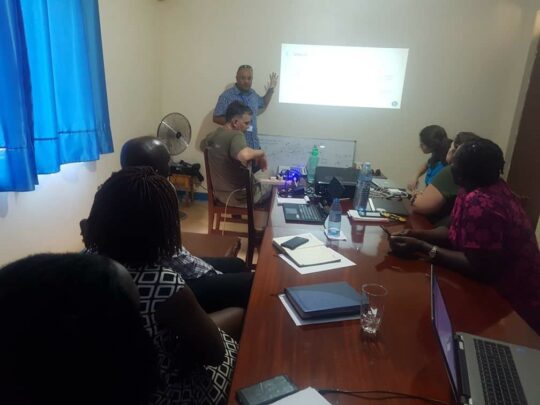 You have been with Lifeline since 2014. How has this organization kept you engaged throughout the years?
I joined Lifeline at the end of 2014 and have been active from early 2015. Lifeline is a growing organization, and, from my experience, the country team and the global team has made sure that I settle well in my role. The global HR manager, finance director and global deputy director were visiting on my first reporting day. Knowing you are working with people who care for you has fast tracked my assimilation in Lifeline. There are lots of opportunities to introduce new approaches, exercise your experience and learn from your colleges. One aspect that I like about Lifeline is that our work is very focused and mission driven. We are working to address safe water and clean energy needs of communities majorly in rural and refugee settings across Uganda, two seemingly simple but vital elements of human life. Of course, knowing the history of how Lifeline is founded, and the commitment of the founders as well makes you indebted to contribute something towards the cause.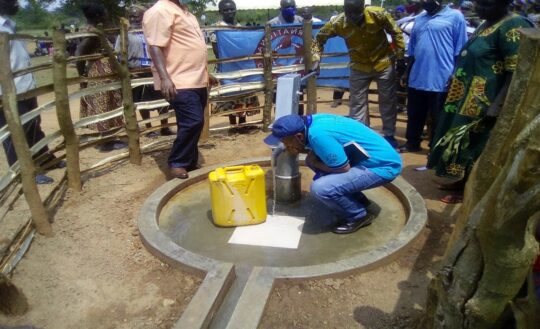 Prior to joining Lifeline, you were working for Medical Emergency Relief International (MERLIN) as the Country Director. How does the work of MERLIN, which was solely a humanitarian organization, differ from that of Lifeline, who does both humanitarian and development work?  
This question is taking me back to my days in Sudan. MERLIN was founded as a UK charity by ordinary individuals who want to do something extraordinary in the 1990's. When I joined in 2011 there were over 4,000 workers providing life-saving support in global emergency hotspots like Sudan, Central African Republic (CAR), Democratic Republic of the Congo (DRC), Afghanistan, Pakistan and more.
I originally joined as country finance director for Sudan program and later promoted as country director for the program, where I led frontline workers providing services to people in Darfur. Specifically, the internally displaced people (IDP) in East, South, and West Darfur.
When you work in emergency response, specially where there is active conflict, it is totally different than a development approach. For example, at Lifeline we provide services such as, community training, more long-term support and sustainable solutions which can include long term planning with government partners.
Under emergency response, your primary focus is saving lives. Specially, in cases where the situation is volatile, your plan can change anytime, and this is a "normal" occurrence. Driving to your own office can be almost impossible, sometimes the working hours could be irregular because of security concerns, such as abduction or targeted attacks. It is difficult to put together and follow a work plan while working under these conditions; contingency planning and remote management is part of your modus operandi.
Despite these challenges, though, at MERLIN we managed to run a primary health care and nutrition services that gives vital lifesaving support specially to children and mothers. I must thank the brave team I worked with at MERLIN and our donors such as ECHO, CHF, OFDA, UNICEF, other UN agencies and partners that enabled us to save lives.
In early 2014 the board of trustees of MERLIN decided to join forces with a larger NGO (Save the Children) and I led the transition process. I was tasked to provide support in CAR, Pakistan and London offices which I successfully managed. Overall, from my time with MERLIN, the commitment of the team deserves recognition.
It appears that you have moved around a lot before eventually landed in Uganda. Why did you decide on Uganda and what  has kept you around?  
As a humanitarian worker, throughout my career and education, I started to question things like why people live below the poverty line, should we measure growth only in economic terms, are the indicators like GDP, balance of payment and PCI real indicators of development? Why are the major development challenges, be it poverty, conflict, food security, education, health, inequality, climate change or lack of good governance in Africa?
I thought I found some answers (and still looking for more) to my questions and later I decided to return to Africa and landed in Sudan first and later to Uganda to work with Lifeline, where I believe my efforts will contribute a little to make the world a better place.
I always call Uganda a "home away from home", mainly for the amazing people and the natural beauty of this country. I have no preferred location in Uganda as long as other people lives there. I have traveled almost all over Uganda and I have met wonderful people everywhere I visited.
I know that you have family located all over the word and it sounds like you are a world traveler yourself. Has this global life experience influenced your cross-cultural abilities?  
I personally don't think that I am world traveler, but I wish I could be. I have been to several countries for work, study, visiting family, and for pleasure. The best part of traveling is meeting people and understanding their culture. Traveling can also clarify your dilemmas or your misunderstandings about places. For example, in some countries there can be a misconception between different discourses across countries. However, when you can travel to multiple geographies, and learn from people, those misunderstandings will be explained.
For example, when I went to Islamabad, Pakistan, people were advising me not to travel. However, I jumped on my flight with open mind as I know there are other people living there. It is amazing how beautiful the city is and it's interesting how the media perception can affect our views to an area of the world. I still have friends from Pakistan that I communicate with.
I have also never failed visiting the museums when I am in a new country. You can imagine the world artifacts in the British museums. Those historical relics gives us tangible information and corrects the wrong narration we hear from the media.
It was very interesting for me to read the Versailles treaty in a history Museum in Berlin that the allied forces made Germany accept responsibility for the first world war and thinking in retrospect that the treaty did not stop the second world war from happening after 20 years.
Overall, it is exciting to meet people from many walks of life and traveling has helped me to understand cultures, history and shape my perspective.

I heard that you are an animal lover. What animals do you keep, what have been your favorites, and why?
I love animals and used to keep pets, but this was not the case after I grew up and got more priorities. However, after coming back to Uganda, I started keeping bunnies. I originally bought three from a nearby village and now I have over 30 pet rabbits. I simply like their company and enjoy feeding them. I started to give a pair of rabbits to nearby communities so they can also keep some. My colleague Igor has even taken a few of them.
What I also like about keeping and caring for animals is you can develop an attachment to their unconditional love.
Do you enjoy listening to music? What is your favorite genre?  
I like listening to music generally. More specifically, I like traditional African songs and contemporary hip-hop. I listen to West African music that has Afrobeats. I enjoy listening to various Ethiopian & Sudanese singers and artists from different cultures, but don't have a particular interest in one singer. I listen to Cardi B and Nicki Minaj regardless of their personal feud. As long as the vocals and the beat is appealing then you can find me moving to the groove.