By Brian Cartwright
All of our work here at Lifeline is made possible by the incredible passion and drive of our team. We're proud to introduce you to the talented individuals who power our work and mission.
"What I am doing today is a part of the larger puzzle that will eventually complete the picture of a thriving, satisfied community." ~Norbert Busobozi
Can you take a moment to describe generally what your role is with Lifeline and your day to day responsibilities/tasks?
I have been a WASH engineer with Lifeline for the past two months. My job is to oversee the technical aspects of the WASH department of Lifeline. This includes issues like integrity of technical work and Operations & Maintenance. I bring fresh eyes and ideas to the WASH technical operations for Lifeline. What I enjoy about this job is that every day is different, but all going towards the improved technical capacity of the WASH team. I enjoy this dynamic aspect of the role.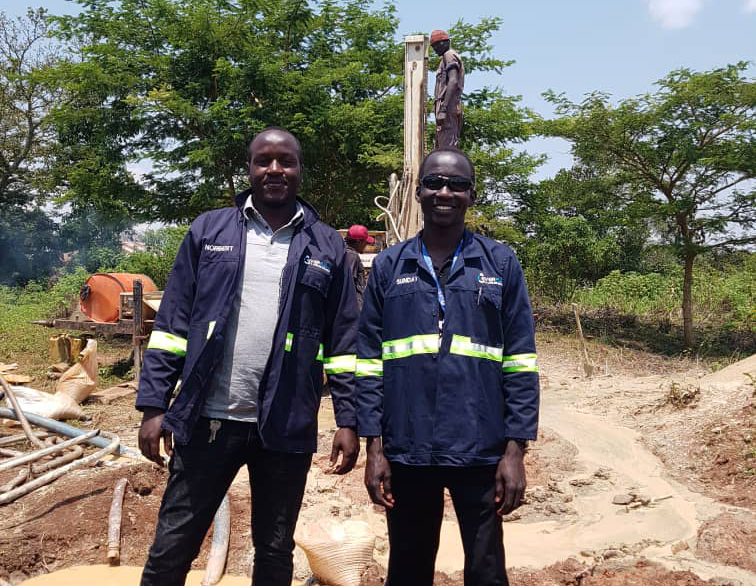 How did you become interested in engineering with a particular focus on WASH? Was there a particular experience that pushed you towards a career as a WASH engineer?
I think anyone who likes to create, innovate, solve problems, or enjoys technology, these people always end up as some sort of engineer, either by education or passion. I have always been interested in engineering. For water engineering, specifically, I have acquired substantial knowledge in this area throughout the years and have always been passionate about water for people and seeing the smiles that water brings to peoples' faces. Knowing that my work is feeding into better water and sanitation for people is why I am focused on WASH engineering, specifically.
What was it about Lifeline in particular that made you interested in being a part of the WASH team?
My interest was more about being a part of Lifeline in general. I like the mission and the way this organization approaches its work. I like the motto of helping people to thrive, not just survive, and their approach of partnering with communities and people to jointly come up with solutions. It was easy for me to want to be a part of this team.
You previously worked for Uganda's National Water and Sewerage Corporation (NWSC). What are some differences you notice from your role with a national corporation versus an organization like Lifeline? What do you enjoy about working for Lifeline?
Interestingly, both roles have a lot in common. I was working for NWSC for 7 years. The main difference is that NWSC was more focused on serving urban communities and towns, while Lifeline is working more with rural communities. I wanted to transition from urban water and sanitation to rural water and sanitation. It's also interesting to see how things are done differently from the public sector to the private sector. From this transition, I am excited to gain a broader perspective of WASH between the two settings.
During a typical workday, what activities make you feel the most accomplished? Is there a specific aspect of your job with Lifeline that brings you joy?
My role with Lifeline has given me a new perspective on the work that I have been doing for years. For example, at NWSC I had drilled boreholes before, but with Lifeline I am learning more about the entire process, starting with the community, and I now understand why things are done in a specific way. I was more focused on the end product when I was working for NWSC. Now, I am identifying needs and figuring out how we can work with the communities and seeing the importance of community engagement. Interacting with communities at the ground level and understanding their expectations has been interesting and enjoyable. Here, there is space for me to be a part of solving community challenges. What I am doing today is a part of the larger puzzle that will eventually complete the picture of a thriving, satisfied community.
In your own words, what does it take to be an effective WASH engineer? How do you know the work you do is impactful and efficient?
For me, to be effective you need to have a team around you that complements your work. These complementary efforts contribute to my effectiveness and that the of the whole team. Once we come together as a team, it breeds efficiency.
To be an efficient engineer, it is also important to take your time to appreciate the problem and the potential solutions at hand. Different engineers will have different solutions, but the ability to listen and appreciate the challenge in front of you can make you more effective at your role. One also needs to keep up to date on what people are doing in the sector globally. This information from other projects taking place around the world could be adjusted to suit the local need or problem you are confronting.
Do you have any interests outside of your professional life? What hobbies or personal interests do you have that bring you a sense of joy or relaxation after a long workday? Do you play any sports or games?
I enjoy football, I have always been a soccer player from as far back as I can remember. I am part of a team in Kampala. The first activity I do after work is play football, and this game has always been a passion of mine to play, watch, and analyze. In addition, I enjoy traveling and meeting new people.
I also like playing chess. I find the nature of the game interesting and enjoy how situations can change so fast, for better or for worse. I like to see my strategy evolve and come up with a new approach on the fly when the game changes. You need to have a good strategy at the beginning of the game, but when this collapses, it is fun to come up with a new approach quickly.
What kind of music do you enjoy?
I really like music. Unfortunately, I do not play an instrument or sing. I am a fan of EDM, alternative rock, reggae, Ugandan music and all kinds of genres. It does not matter what language it's in, as long as it is good music. I also enjoy dancing. It's all about feeling the vibe and the beat. My body adjusts to the music and I start to move almost automatically.
If you won the lottery, what would you do with the money and why?
In the village that I come from, in the district of Kyegegwa, we have poor access to safe water. I would use the money to do something for the people there. This is a big challenge in my village. Northern Uganda has received a lot of support and I would love to see a similar spike in safe water coverage back home. I would likely set something up like Lifeline, an organization that supports people and communities to thrive. My other interest would be to set up my own engineering firm.