All of our work here at Lifeline is made possible by the incredible passion and drive of our team. We're proud to introduce you to the talented individuals who power our work and mission.
"To be a change maker you must love and have passion for the change you want to bring and then lead by example. You must be determined, bold, and focused towards the change you want to bring."
– Anyango Paska Sizella
What are the duties and tasks associated with being a sanitation and hygiene officer? What are your responsibilities in general?
In general, my responsibilities are to develop materials to promote safe WASH practices. Marketing sanitation [latrines] as a product and training the communities. This includes inspiring others by doing what I love and promoting safe sanitation and hygiene practices.
Within my role I do a lot of advocacy. Being a sanitation and hygiene officer, you must be someone who is able to advocate for change. I also facilitate and design activities for community involvement. It's important for a sanitation and hygiene officer to work with the community, who should be involved in the project design process from the beginning. This can be done through different approaches. Through advocacy, for example, people can change their culture around sanitation and hygiene. There are many cultural beliefs that go against good hygiene and sanitation practices. One example would be practices that go against using latrines to defecate, which can cause long term health concerns within a community. The duty of a sanitation and hygiene manager is to influence people to change this practice to promote good health.
It sounds like you have built a reputation for yourself as a "change maker." From your experience, what does it take to be a true change maker? What are some of the difficulties in creating true positive change in the communities where you work?
To be a change maker you must love and have passion for the change you want to bring and then lead by example. You must be determined, bold, and focused towards the change you want to bring. You then must lead the community you are working with and be a part of them. If you just impose change on others, it can be hard to create change. It's important to build a rapport with the community you are working with, otherwise they will not accept you and you won't get anything done.
You also need to be able to speak up and speak consistently. Change is not brought in one day. These things take time and you must keep speaking and being present in the community over a longer period of time. You must also know that, as a change maker, people are not always going to agree with what you say and people may not understand you, so you must be determined. The best way to overcome this issue is to approach the community with an open mind. If you try imposing upon and dictating to them, then you will fail. You must allow the community to speak, listen to whatever ideas they have, and bring out what they believe to be right. In essence, it's important to be driven by the desire of others. You must understand their needs and design your approach through that.
It is also important to be aware of the attitudes around you, whether they are positive or negative. People within a community may have the knowledge of what you are doing, but their attitude can be negative towards your presence in the community and the change you wish to make. People may not understand you in the first place when you approach them as a change maker. There are people who will discourage you with whatever change you want to make. When I was in Karamoja from 2009-2012, people told me I would not succeed in promoting positive sanitation and hygiene practices and people told me to leave the community how it was. While we may have not been fully successful, we did succeed in the construction of latrines. Working with the community to actually use the latrines was a challenge, though.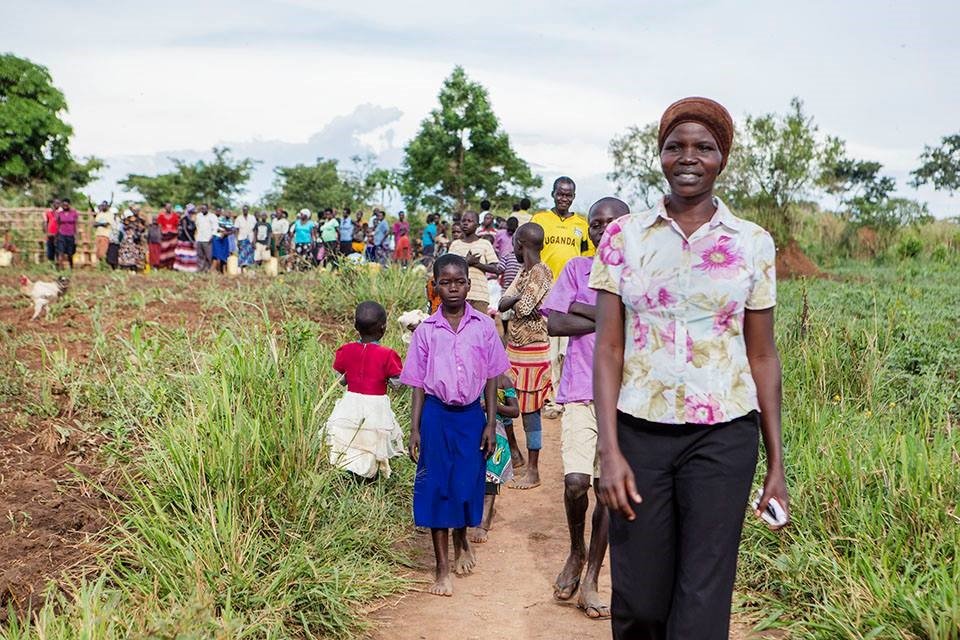 If you could take a moment to reflect on your past, is there a particular experience in your life that drives your passion about sanitation and hygiene?
When I reflect back to my childhood, I grew up in a place where the closest deep well to fetch water was at a nearby school 3 kilometers away. We did not consider issues of drinking from safe or unsafe water [sources]. My village had a number of people who suffered from water-borne diseases, including myself for 21 years. We had traditional healers who believed they could remove worms from the stomach locally. It was when I joined the WASH profession that I realized that we were suffering from poor sanitation and hygiene diseases.
One experience that really drove my passion towards sanitation and hygiene was when I started working with internally displaced people (IDPs) during the war with Joseph Kony and the Lord's Resistance Army (LRA) in Northern Uganda. I saw people living their lives in a miserable way in displacement camps without latrines, with widespread open defecation, and drinking from unprotected springs. When I would move around within the camps, I would feel pain within my heart. This pushed me to try and speak to the disaster affected communities and ensure that important sanitation changes could take place within the camps. Witnessing these terrible sanitation conditions, my colleagues and I would shed tears in front of the community members, which ultimately helped to motivate and move the communities towards positive change.
What do you like the most about your position? What aspects of your role make you feel fulfilled?
This position has enabled me to interact with the rural communities. Knowing that I am supporting their WASH needs is one aspect that makes me feel fulfilled. Every project is designed with community members to fix a challenge that the community faces. I also want to note that with Lifeline everything we do is driven by the demand of the community. I like that my role involves getting to know how the people work and live, and then having the capacity to actually support them through Lifeline. The aspects that make me feel the most fulfilled, however, are meeting the needs of the needy and doing so in partnership with the communities we serve.
Aside from your professional life, what do you enjoy doing in your free time? Is there anything that makes you feel relaxed and happy at the end of your workday?
I enjoy listening to music, singing and dancing and, in fact, I play the guitar. Engaging with children and cooking are some of my other interests. I like to play with the kids in my neighborhood and when I go jogging the local children like to come with me. I also enjoy doing yoga exercises with kids.
I used to be a runner when I was in school and love watching live football. It can be exciting watching soccer players in person on the field rather than watching from a screen.
If you could travel backwards or forwards through time, like in a time machine, who would you visit and where would you go?
The place I would like to visit is Israel. This is because I have read a lot from the Bible and it is where Jesus was born. Sometimes I wish I could go and see all the holy sites.
What is your favorite meal and why?
My favorite meal is local vegetables, like bojo, and I also enjoy millet bread. I know my health is very important and I need to eat the food that has a positive impact on my body. Vegetables have a lot of vitamins that can help my body be strong and fight against illnesses.
Where do you see the hygiene and sanitation sector going? Do you think there are any changes that must be made to improve within the sector? If so, what suggestions do you have based on your experience?
From my experience, I still don't see the sector going far enough to make sanitation and hygiene a priority. Water and sanitation activities should benefit the people at the lower community level and more focus should be put on WASH education and trainings. From my work with communities, I have learned that if you don't follow up or advocate for them, then sanitation will not be prioritized. When WASH in general is not prioritized at various levels of government and community leadership, this leads to a lack of funding to implement sanitation and hygiene projects the right way, including trainings. If more attention and funding is given to WASH at higher levels, then the WASH sector can help [Uganda] to develop and eliminate easily treatable diseases.
You originally joined the Lifeline team in 2013. What is it about this organization that has kept you engaged throughout all these years?
What has kept me engaged with this organization is the fact that Lifeline gives the best to the communities that we serve. I have seen the way that Lifeline implements all of their programs, especially WASH and environmental programs, and all of this work ensures the best possible outcomes for the community. If it is the construction of a water point, for example, they will make sure it's quality work. Lifeline ensures everything is done right and follows all of the important protocols. The safety and integrity of the projects are done well when given to the hands of the needy.
If you could have any superpower, what would it be and why?
This would be the ability to stop corruption in the world. In my view, from what I see on the news and TV and seeing the impact of corruption in the world and in Uganda, corruption is one of the largest roadblocks to peace and human security in the world. Corruption also has the largest impact negatively on the poor and the disenfranchised. Since I have this passion for assisting the needy and poor, when I see them suffer because of corruption it can be heartbreaking. In Uganda, if you do not have enough money in hand you can lose everything, your land and your house. The poor are suffering at the expense of corruption in many cases and my superpower would be to end this corruption.